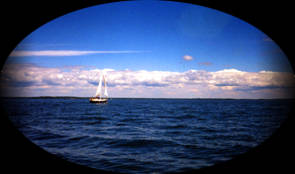 This site is best viewed if you enable your anti pop-up ad software.

Sorry but we are not accepting reservations for 2008 as our boat HAS BEEN SOLD and we are NO LONGER IN OPERATION !






WindShip is a family owned / operated adventure tour company specializing in unique & exciting sailing adventures in the picturesque Georgian Bay / 30,000 island region of Southern Ontario, Canada.(1275692 Ont.Ltd.)

Our base of operation is in the Midland area, a leisurely 1.5 hour drive north of Toronto.

Further details will be provided when you make your reservation.
While on a WindShip sailing adventure, We invite you to:
go hiking on the well marked trails of beautiful Beausoleil Island National Park.


visit remote islands and relax on isolated sand beaches.


go swimming in a sheltered cove.


go snorkeling and view some of Canada's famous Shipwrecks.


visit historic sites of the 1812 war.


participate in the operation of the ship.


go fishing (bring your license and gear).


go sea kayaking or canoeing (available nearby)


enjoy evening onboard BBQ's and moonlit overnight anchorages.


experience romantic sunsets and sunrises.


Marvel at the numerous exceptional photo opportunities. Ask about our popular photography workshop weekends with nature photographer Bryan Davies or check out his website at


Rest easy...No prior sailing experience is required


Take advantage of our flexible schedules and itineraries including mid-week departures


Sit and just relax or learn to sail.


Sleep like never before in your own private cabin


Enjoy sails filled with warm summer breezes

We specialize in:
custom designed holidays to meet your personal interests and timetable.
superb home-style cooking.
an eco-friendly boating experience.
2 and 3 day weekend get-aways and mid-week voyages.
Single day sailing trips. Check our 'voyages' page for further details on all of these popular outings.
Do something new this summer and come sailing with us!


We are currently accepting reservations for this year's sailing season (2006). We strongly encourage you to reserve your sailing adventure well in advance, so give some thought about your vacation schedule then send us an e-mail or give us a call. All that's required is that you select a tentative date and forward a 25% deposit. Balances are not due until 2 weeks prior to departure.

In September, we do offer limited weekend sailing and only if weather conditions permit.

"For the truth is that I already know as much about my fate as I need to know. The day will come when I will die. So the only matter of consequence before me is what I will do with my allotted time. I can remain on shore, paralyzed with fear, or I can raise my sails and dip and soar in the breeze."

"Twenty years from now you will be more disappointed by the things you didn't do than by the ones you did do. So throw off the bowlines. Sail away from the safe harbour. Catch the trade winds in your sails.

Explore. Dream. Discover."

I'm sailing down the summer wind, I got whiskers on my chin and I like the mood I'm in. As I while away the time of day ... in the lee of Christian Island. Tall and strong she slips along, I sing for her a song and she leans into the wind. When the summer ends we will rest again in the lee of Christian Island....(Gordon Lightfoot)